Managing Director's Speech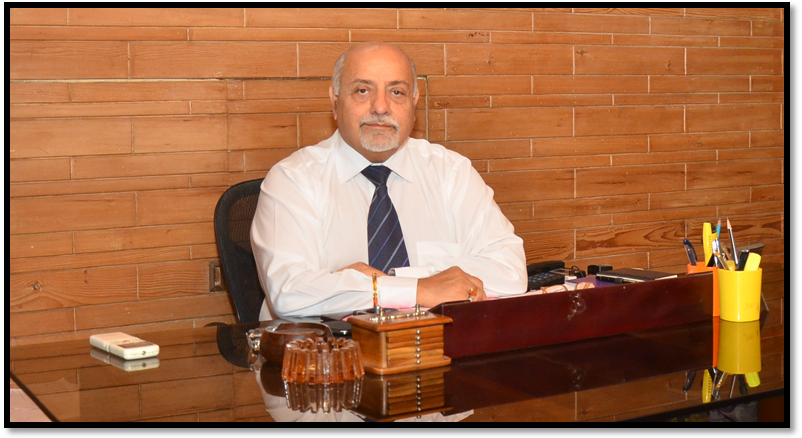 Dear Fellow Shareholders,
''One of the tests of leadership is the ability to recognize a problem before it becomes an emergency.'' This is the famous quote from American Businessman Mr. Arnold Henry Glasow. A real American thinker, self-effacing and generous of spirit, he shunned the national spotlight in 1980s.
Trust me, 2020 will be an exceptional year in exceptional times.
The shadow of COVID-19 is firmly upon all of us. Covid-19 is on its way to create what will perhaps be the most serious global economic crisis in a century, since the Great Depression that began in 1929 and lasted a decade. While full numbers for India are not available, data from some other countries paint a dark picture. This contagion will extract a heavy price from humanity and every business. We are confident that Sukhjit will emerge stronger, more resilient, more efficient, more agile and more effective and in doing so, reset, reinvent, reconstruct and rework itself to succeed in the new-normal that will emerge. However, what will remain unwavering will be our integrity, core values of Care and Deliver and resolve to better serve our customers, continuously.
The unfolding, global COVID-19 pandemic is a human crisis of historic scale and complexity. It is straining health care systems, government fiscal capacity, and the ability of many organizations to cope with the changes wrought by the virus and the response to it. The level of uncertainty for most leaders is unprecedented, and most of our frameworks for planning and problem solving are unable to manage the geographic variability, uncertainty, and the exponential change brought by the COVID-19 crisis.
The biggest question is How must we transform our business to win the Fight--and win the Future? Many leaders are asking the same set of questions: How should I forecast my revenues? How should I adjust my budget? When will this be over, and when will we return to ''normal''?
In the wake of so much uncertainty, we are focusing on framing potential scenarios and use them to develop a robust plan of action. As the new manufacturing facility for 600 TPD goes into operation, we are conservatively
targeting sales of ₹ 1000 crore FY 2021-22, if all things get normalized till the end of March 2021. To achieve this we will have an ACE strategy this year:
ACE: Accountability, consistency, efficiency to achieve sustainability and efficiency
Already, people and organizations alike are adopting new behaviors. There has been a massive shift to remote work--and to a new kind of work-life balance as work and family mix. Businesses are investing to make remote work more efficient and sustainable. Consumers across demographics are purchasing dramatically more goods online, and companies have built delivery services to meet the demand. Students facing school and university shutdowns have shifted to e-learning, supported by governments providing tablets and videoconferencing systems to make it more accessible.
It's entirely likely that some of those shifts in behavior will be permanent, leading to larger-scale transformations. At-home consumption of goods and services will lead to structural changes in e-commerce, grocery shopping, food preparation, food packaging, clothing styles and healthcare. And virtual access to critical services will create new ways of delivering health care and education.
Looking beyond these changes to second-order effects, we see substantial uncertainty in some our current offerings. Our team and sales experts are busy in finding how will consumer preferences and consumption habits change further? What will trade, travel, and capital flow look like? New levels of scenario planning will be necessary to address these far-reaching questions and to find the right buyer for our products.
Five factors that stood out, and that we think are relevant today for Sukhjit:
Act proactively. We will endeavour to preserve cash and cut costs to protect and create a strong foundation for your organization. We will be investing only in necessary areas for long term sustainability.
Stick to a clear vision. Even as they looked for new sources of growth, we are pursuing the clear vision that we had before the crisis--a vision that was based on a small number of long-term themes. The Fight phase is going to be longer than most leaders we have talked to anticipate. We expect that it will be between 6 to 9 months before a vaccine or highly effective treatment can be developed and deployed.
Increase demand vitality. The biggest question today is what are the product and service innovations today that you can pursue and perfect after the crisis? Create demand-focused capability and adapt your commercial efforts and your offering to what the customer needs now--and where they currently are at. Step change your online presence and ability to market, sell, and service online.
Create supply agility. Given variability and uncertainty, build agility and adaptation into your supply base and supply chain. The Fight phase will be more economically challenging than most leaders seem to expect. Because the situation is volatile, consumer and worker confidence has been shaken, and because of the risk of further outbreaks and localized lockdowns, or perhaps even national ones, we envision an ongoing impact to the global economy. There will be huge correction in the prices and we believe that only cost efficient producers will stay in this business in the medium term.
Build enterprise resilience. We have understood that we couldn' t avoid future disruptions, so we built organizations not only to withstand future shocks but also to anticipate them, including streamlining core operations and redesigning processes to capitalize on digital capabilities.
Like every next mid size company, we are also impacted but the strong foundation and our management determination will take the company to sustain and accelerate. We cannot predict the future. But we can seek to understand what the future might hold and what that means for the Nation, industry sectors, and individual companies. We need scenarios to bound the uncertainty, to help us understand the underlying drivers of outcomes, and for some understanding of how we can shape those outcomes.
We still believe that our success will depend how we partner with the best customers, suppliers and innovators and how we engage the talents of all our people, and support their safety and wellbeing in this Macro economic crisis situation ?
There is great power in simplicity in a complex and challenging world. The management agrees that passion and hard work is critical for driving innovation and competitiveness in a fast-changing and dynamic marketplace. This year's performance is testimony to the hard work and unstinting commitment of our people around the Industry.
As a Board, we recognise the importance of good governance but, in my view, the most important contribution any board can make is to support the executive team in developing strategy and implementing it in a focused and responsible way -- doing the right things in the right way at all times. To this end, my colleagues and I spent a lot of time this year getting to understand better the strategic opportunities and challenges in the eco-system for Sukhjit.
The investments we've been making over the last few years to build a broader geographical presence, new systems and processes, and new technical and sales capabilities are now coming through in our recent financial results.
Sukhjit is in a good position just because we have focused on two things in all business cycles. First is quality along with consistency and second is preserving cash for future. We are optimistic that we will be debt free in next 2-3 years and will have a portfolio of ingredients well placed to benefit from growing global consumer demand for tastier and healthier foods and drinks. Despite all challenges, Sukhjit team is ready to deliver another year of sustainability and consistency.
On behalf of Board, I extend a warm welcome to Mrs. Manjoo Sardana as our new Chairperson and as Non Executive director. We are also looking forward to using her skills in strategy and other management functions. We also welcome Mr. Vikas Uppal as Non Executive independent director and Mrs. Shalini Umesh Chablani as Non Executive director and look forward to their very productive and positive guidance.
Trust us, the management often has a genuine desire to protect employees, but long-term financial interests are a major consideration as well. Like few other old economy companies, we were able to avoid layoffs. However, the risk on the horizon is potentially much greater than 2008-09 and we are preparing for scenarios that are multiples worse than that.
We would like to thank our employees for their commitment to Sukhjit. It is their hard work, alignment behind our strategy and dedication that enables us to deliver on our promises. We also want to thank you, our shareholders, for your continuing support, your confidence and above all for your trust in this challenging times. Rest assured that our passion to deliver the best and our passion for quality will continue to generate the sustainable, profitable returns you rightfully expect from us.
Regards
K. K. Sardana
''Success isn't a result of spontaneous combustion. You must set yourself on fire.''
- Arnold Henry Glasow