Managing Director's Speech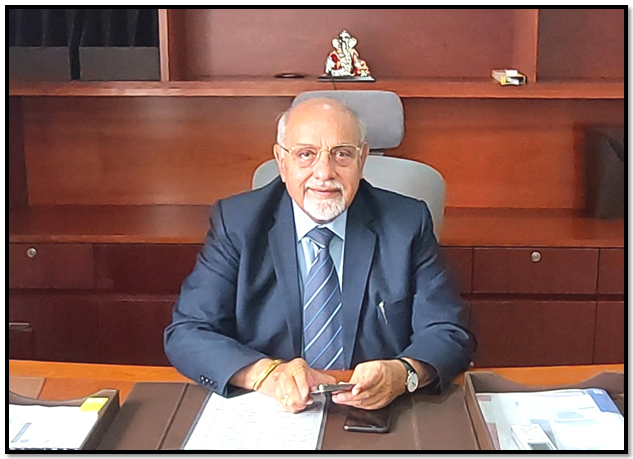 Dear Fellow Shareholders,
Last year will be remembered as another year of TRANSFORMATION for mid-size old economy companies like Sukhjit Starch. We always believe that every crisis comes with the opportunity to transform and learn in this new digital world. The year gone by was also impacted by the Pandemic - its multiple waves delaying the return to a sense of normalcy for economies the world over. At the same time, the strain on the global supply chain networks led to runaway inflation and the situation has only worsened with the on-going geo-political conflict, further fracturing the supply chain stability. Through this uncertainty, what has stood out is the resilience of mankind, to look for opportunities in adversities, to innovate and address the challenges. Your Company has shown the same resilience to overcome the challenges and continues to forge ahead in its journey to be the customer's 'Partner of Choice' especially in the value added product range. In 2021-22, Sukhjit consolidated its position and advanced its Growth Roadmap to deliver solid net sales and profit growth. Three waves of Covid have left great lessons for most of the people in trade & industry. People have learnt to run the business with reduced infrastructure using lower manpower and also use the available resources more efficiently. Bounce in the post Covid results are witness to the fact that there was great learning for all of us from Covid waves.
As a part of this Transformation Agenda, we continue to make changes in the very way we manufacture and deliver products to all our end users.
I would like to underline one aspect of this new positioning specially. We consistently use our expertise to migrate customers in our Tier 2 and 3 cities from unorganized sector to organised where people offer international quality at Indian Prices. And I am completely pleased with the outcome of this transformation in second half numbers. This fine difference is our edge and the platform to offer more value to our customers on one hand and also to build loyalty with them in a sustainable way across Country on the other.
We have continued to invest in our business, capitalizing on key trends that are shaping the end user industry to better position ourselves for the long term. With our footprint in almost all parts of the country, we believe that a deeper penetration into the hinterland will be possible only with effective use of our capacities and world class customer service and logistics, which can ensure affordability.
To put it pithily, new products and services, driven by innovative technologies promising greater relevance and higher value, are radically transforming the way we live, behave, act, transact and work, by each passing day. The beauty of this transformation is that it is not for the high-heeled ones or the evolved ones alone, thanks to the increasing wages, even those at the bottom-of-the-pyramid are also ready to pay a small amount for CONVENIENCE, QUALITY AND CONSISTENCY.
Turning to our top line performance, we grew comparable net sales for the first quarter by double digits. Our operating teams actively managed the terms of our customer contracts, which enabled them to address higher corn and input costs and deliver both core sales growth and a stronger specialty mix. While the New Unit in the State of Punjab is operating at 80% capacity for starch & 85% plus capacity for some of its derivatives (high value products), the Company hopes to achieve full capacity utilization in this year. Company is seriously looking to expand capacities of maize processing at two locations where we are still working with old / low capacities commissioned 2-3 decades ago.
We firmly believe that we will be able to increase the capacity to 2000 TPD from 1600 TPD in the next two years time.
Overall global environment is quite positive for exports from the starch industry as most of its products have become competitive in the international market. Higher cost of corn in the major starch producing countries have helped the industry increase exports to many countries.
Deeper customer research always has and will continue to be our road to greater profit. The team of dedicated and enthusiastic professionals of the Sukhjit family have taken it upon themselves to focus on building a strong
bottom-line. We are hopeful to exceed the expectations of our dear shareholders who have put faith in us over the years. With our 77 years of experience I assure you that this transformation will take your company to a new phase of growth. Industry being driven out paving the way for rejuvenation and sustainable growth for those with the right credentials. Our access to local markets and new markets with a low gearing ratio is close to an ideal scenario. Our strong foundation is our core strength. I thank our valued customers, stakeholders, suppliers, business associates, shareholders, and above all, my colleagues in Sukhjit for their continuous support.
For the immediate future, the environment has turned uncertain with the economic recovery under challenge from multiple fronts. Inflation is at a multi-decade high across geographies, partly induced by the global supply chain disruptions and partly by the ultra-accommodative policies pursued by the governments and monetary authorities to pump-prime the pandemic affected economies. I again re-emphasize that the geopolitical situation is threatening to further worsen inflation across key commodities. As a result, monetary authorities are continuously tightening the money supply, hoping to squeeze out the inflationary pressures. This could hurt the demand conditions across industries. Amidst this upheaval, organisations that stay true to their core vision and fundamental character would continue to prosper, looking at every hurdle as a possibility to reinvent themselves into a partner much more relevant to their customers.
Whatever may be the industry scenario, we are always guided by our core values of Hard Work, Integrity, Teamwork and Social Commitment. Our dedication towards fulfilling social responsibilities also helps us move towards a sustainable future. I assure that your Company would be able to create value for all its stakeholders in medium to long term.
Warm Regards
K. K. Sardana